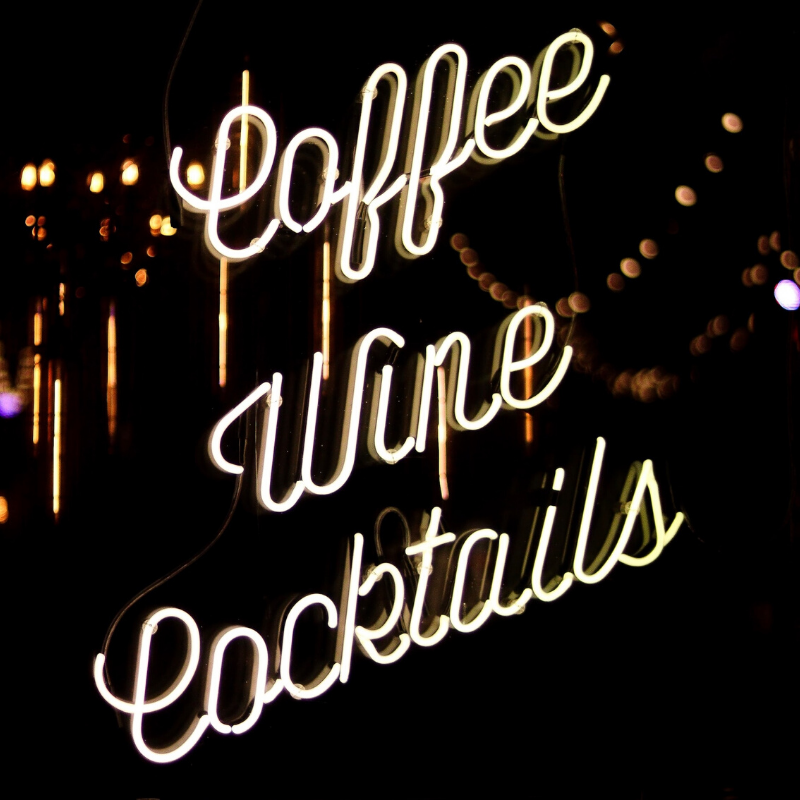 Coffee, Alcohol, and Sleep
Here is something for all coffee & wine lovers. Yes, and I am talking about me here as well 🙂
As an entrepreneur and very busy mom, I know that a big cup of coffee in the morning (or two, three …) and an even bigger glass of wine in the evening is sometimes the only thing that makes you survive the day, isn't it ?! I am definitely pleading guilty here.
But did you know that caffeine has a half-life of 6-8 hours, depending on your age and gender?
In other words, if you drink coffee in the afternoon at 3:00 p.m., half of this caffeine still circulates in your body at bedtime – e.g. at 22:00.
Chances are that you are probably so tired that you fall asleep without any problems and therefore do not worry about your afternoon coffee.
The problem, however, is that your body is very aware of this caffeine and it affects the quality of your sleep. The caffeine makes your sleep very light and prevents you from falling into the restful and regenerating deep sleep. Our body generates a lot of deep sleep, especially in the first hours of our sleep – and this is when the caffeine is still effective. These deep sleep phases decrease towards the end of the night and we have a lighter sleep.
So as soon as the caffeine is completely gone, our body no longer has many opportunities to catch up on deep sleep. Even though we have slept enough hours, we feel tired when we wake up in the morning.
How about my beloved glass of wine in the evening ?!
Alcohol has the opposite effect as caffeine. The alcohol metabolizes in our bodies pretty quickly. If you drink a few glasses before going to bed, it will surely help you fall asleep and you will sleep like a stone. Unfortunately, this "sleeping" doesn't really have anything to do with really sleeping. It's more like you're knocked out or sedated. If you are lucky, your body will still fall into deep sleep.
Since alcohol metabolizes relatively quickly after a few hours, you now have another problem. We usually spend the second half of the night in a lighter state of sleep and a lot of time in the so-called REM sleep (rapid eye movement). In this phase, we usually dream a lot and our brain is particularly active. All that we learned and absorbed throughout the day is now processed and consolidated. In other words, our brain cleanses itself, files important information and throws away unnecessary, and ensures that we can start the next day with full mental capacity.
While the alcohol metabolizes exactly in this second half of the night, it negatively affects REM sleep. It literally shreds it. That's why we often wake up after drinking too much alcohol with a nasty headache and problems concentrating. One reason for this is the lack of REM sleep.
In a nutshell, this means:
Caffeine ruins the first half of our night (deep sleep phase)
Alcohol ruins the second half of the night by shredding REM sleep.
Well, after all the horror scenarios, here's the good news:
Don't miss out on your morning coffee and enjoy your glass of Merlot in the evening! Somehow we have to survive …
However, timing and quantity are important.
A coffee or two in the morning won't hurt the quality of your sleep. Try not to consume caffeine afternoon. And I'm not just talking about coffee here! Think of the hidden caffeine in everything: Coca Cola, (ice) tea, energy drinks, etc.
The same applies to alcohol. Don't drink your glass of beer or wine too close to bedtime – better at an early dinner. Or have fun at the "happy hour" after work. Make sure that alcohol does not become part of your "good night routine". Avoid high-percentage of alcohol as a sleep aid (of course also a whole bottle of wine). So, enjoy your well-deserved glass of wine in the evening, even if it doesn't have to be every evening.
Cheers!
Stay healthy and sleep well.