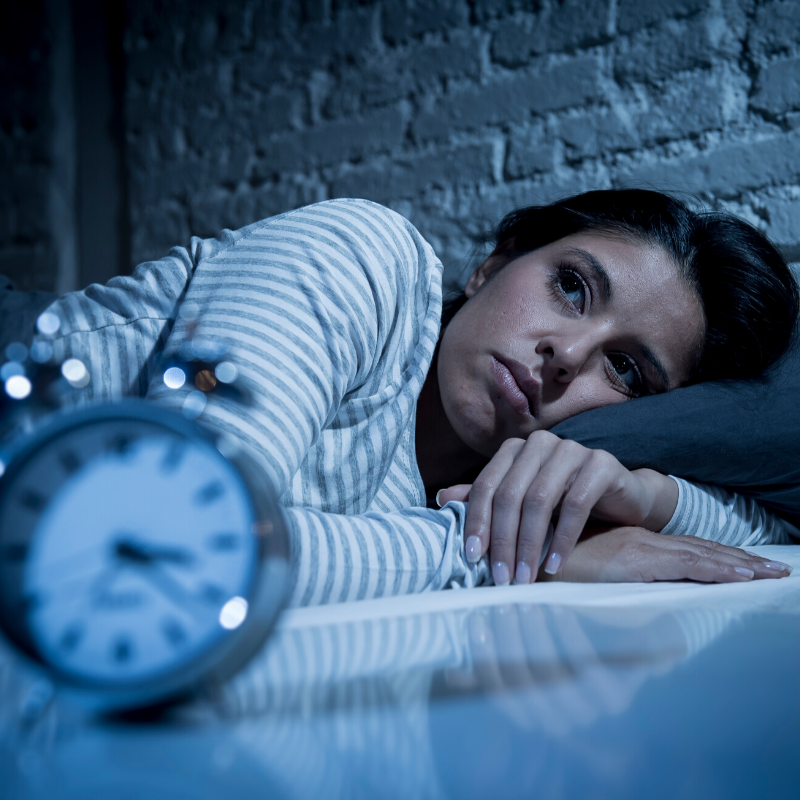 3 strange reasons why you can't stay asleep at night.
3 o'clock in the morning and you are wide awake. Nothing unusual happened the day before, which would explain why you are wide awake in the middle of the night – again. You also haven't had a double espresso after dinner or scrolled through Instagram on your tablet for 2 hours. Because you know what can affect your sleep negatively and did optimize everything you could. And still, you are lying awake in your bed and no chance you will go back to sleep soon.
Here are 3 reasons why you are waking up at night that you probably would never have thought of:
1. Parasites
Yes, you heard right – parasites! Sounds pretty disgusting at first, doesn't it? And what does that have to do with not sleeping? Probably more than you think.
Parasites are nocturnal – they are particularly active between 2 a.m. and 4 a.m.
Their presence triggers an immune system response, which in turn triggers an increase in the hormone cortisol. Cortisol is part of our body's stress response as soon as it perceives any danger. And parasites that mischief in your body at night definitely trigger an alarm situation. So, now you suddenly have quite a bit of cortisol circulating in your body in the middle of the night. And cortisol is our "Hello-wake-up"-hormone. Not very practical at 3 a.m., isn't it?
It will be quite difficult for you to fall asleep again because your body does not want to sleep anymore. Even meditating until you drop won't help much.
And here are a few other reasons why you are sleeping badly if you have parasites.
Parasites are often a root cause for thyroid dysfunction, like Hashimoto's or Graves'.
If your thyroid is not working correctly this will lead to a cascade of health problems and for sure it will wreak havoc on your sleep. 
Furthermore, they can clog your pineal gland.
The pineal gland is a small, pea-shaped gland in the brain. It produces and regulates some hormones, including melatonin.
Melatonin is best known for the role it plays in regulating sleep patterns. Sleep patterns are also called circadian rhythms. In other words, your pineal gland is the master of your sleep. And if this small gland is clogged it can not work well and therefore you will not sleep well either.
How can parasites clog your pineal gland?
When there is a parasite in (or near) the thyroid or brain (most often Giardia, the pork or dog roundworm, or intestinal and esophageal flukes) it sets off a chain reaction that ends up with a clogged pineal gland. Here's the sequence of events:
Parasite excretes waste >>> Waste is full of Bacteria >>> Bacteria soak up heavy metals/elements >>> Pineal gets clogged with the bacteria/metal combo.
Wow, did you ever thought about this, when you lie awake in your bed?
2. Food sensitivities
Let's talk about the second cause for your insomnia: Broccoli! Broccoli??? Well, or spinach, cheese, bread, etc. Are you wondering what I'm talking about? FOOD SENSITIVITIES. Not food allergies, but being sensitive to certain types of food. 
Is there a difference between food allergy, food intolerance, and food sensitivity? Yes.
Generally speaking, a food allergy relates to an immune system response to the protein component of a food. A food sensitivity relates to a digestive system response to a carbohydrate component of a food. 
Food sensitivities may be more difficult to identify, as the symptoms often don't appear until long after the food has been consumed. Sometimes it might be days before a sensitivity presents itself. 
Food allergies, however, present immediately and can lead to life-threatening symptoms, whereas food intolerances do not. In any event, both can also lead to major sleep problems including insomnia.
This again has to do with our body's stress response to any kind of threat.
When you have a sensitivity to certain foods, partially undigested proteins manage to get through the intestinal wall (this is known as LEAKY GUT), the immune system identifies them as foreign bodies that shouldn't be there and try to protect you from them by making cytokines which trigger inflammation to protect and antibodies to attack.
This means you may react to certain foods and yet never feel it in your stomach. The impact will be time delayed, probably peaking at night. And this is when Broccoli causes you to wake up in the middle of the night. We only think about certain "bad" foods to cause us harm. But even "good" foods can trigger our body's immune system response.  The inflammation created by this response travels to other areas of your body—one of the most likely is your nervous system because the inflammation can cause the blood-brain barrier to become leaky (similar to leaky gut), allowing the cytokines in, and disrupting the nervous system's careful balance. When the nervous system is affected you might experience anxiety, depression, irritability, brain fog, and sleep issues.
Food sensitivities place a constant and hidden stress on the adrenal glands, which can lead to adrenal burnout as the glands must continually secrete hormones in response to the inflammation caused by such foods. Oh, and of course Cortisol will flood through your body too, and will keep you awake.
3. Low carb diets
This is not about a specific diet. Eat whatever is good for you. But if you just can't find the reason for your insomnia, check your diet.
Maybe you eat too little carbohydrates? I don't mean cake and pizza. Good carbohydrates 🙂
How can carbohydrates help you sleep well?
Carbohydrates stimulate the production of insulin. High Insulin levels over a prolonged time are not healthy, but insulin also has its good side. E.g. it removes an amino acid that suppresses tryptophan. Tryptophan is also an amino acid, which helps us to relax. In addition, tryptophan converts to serotonin. This is a hormone/neurotransmitter which is called the "happiness hormone" because it also makes us relaxed, feel content and balanced. Now talking about sleep: Seratonin is the building block from which the body makes melatonin – our sleep hormone.
Wow, what a chain-reaction, isn't it? In a nutshell: We need (good) carbohydrates so that we can produce melatonin. At least they can help with that. Without melatonin, we do not sleep well at all.
The bottom line…
Well, now that you know why you are keep waking up in the middle of the night, the big question is WHAT can you do about it?
ASK ME!
This is what I do. I help people to overcome their sleep issues by looking at all kind of possible reasons and putting on my detective hat to figure out what's going on.